Two day Christian Journey through the gates of Jerusalem
He built altars in the temple of the Lord, of which the Lord had said, "In Jerusalem I will put my Name." 2 Kings 21:4


Our Lord's beloved city of Jerusalem in the Holy Land is one of my favourite places to visit. Each time I journey there from the town of Galilee I'm never alone, for I feel the presence of Christ beside me. What our physical eyes see, our spiritual eyes will follow, and I believe tourists and visitors, who encounter this sacred place while seeking His presence, will undoubtedly find it.
Those who trust in the Lord are like Mount Zion, which cannot be shaken but endures forever. Psalm 125:1
DAY 1
We will start our tour journeying through the magnificent city of Mount Zion. Here we will visit the Cenacle Church. It is in this sacred place that Jesus instituted the Eucharist speaking these mystical words at the Last Supper "This is my body given for you; do this in remembrance of me." Luke 22:19


We will remain a while, praying and meditating on God's Word in His dwelling place.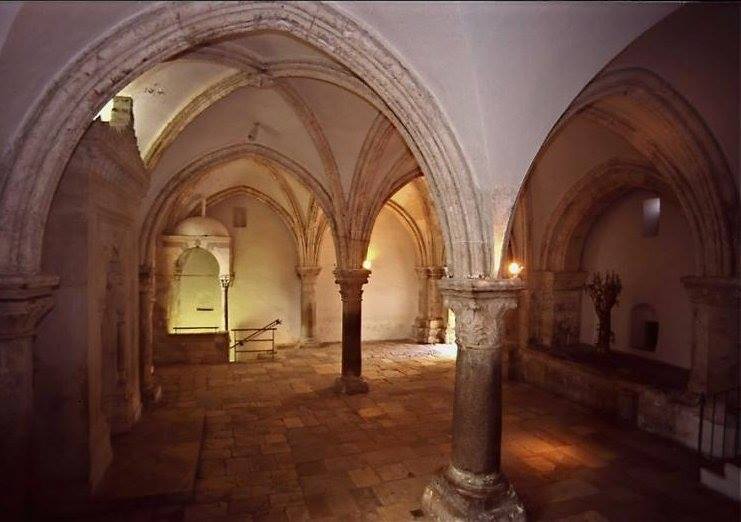 From Mount Zion we shall visit the Church of Saint Peter the first Pope.

Jesus said to them, "But who do you say that I am?" Simon Peter replied, "You are the Christ, the Son of the living God." And Jesus answered him, "Blessed are you, Simon Bar-Jona! For flesh and blood has not revealed this to you, but my Father who is in heaven. And I tell you, you are Peter, and on this rock I will build my church, and the powers of death shall not prevail against it. I will give you the keys of the kingdom of heaven, and whatever you bind on earth shall be bound in heaven, and whatever you loose on earth shall be loosed in heaven." Matthew 16:15-19


Our journey on foot will continue while meditating on Our Lord's Passion, to the old city towards Damascus gate, where we will visit the Church of the Fourth Station of the Cross in Via Dolorosa. This sacred place is where Jesus met His adored Mother Mary on His way to Calvary. We shall remain here a while, pray and light candles with our intentions.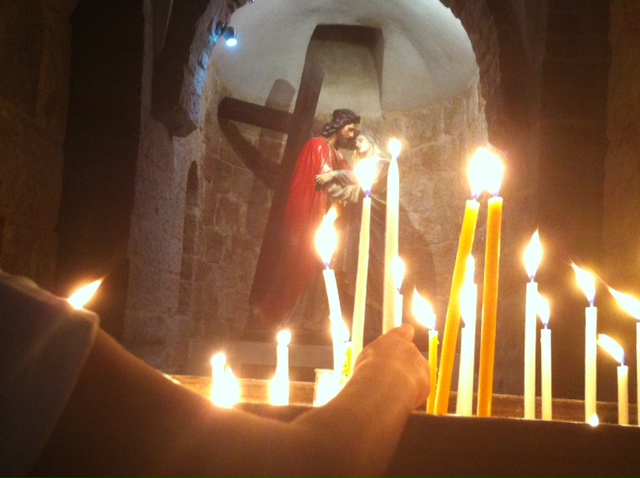 From here we will turn left and walk about 100 meters to the prison where our Lord Jesus Christ was confined. We will see the wall of the prison appearing just as it was 2000 years ago.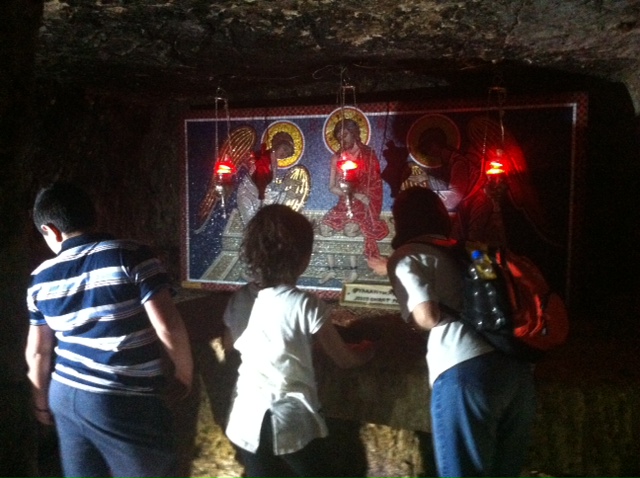 Our next site will be the place where Jesus was condemned to death before Pontius Pilate. Here we will visit another beautiful church, where we shall pray and meditate on God's word.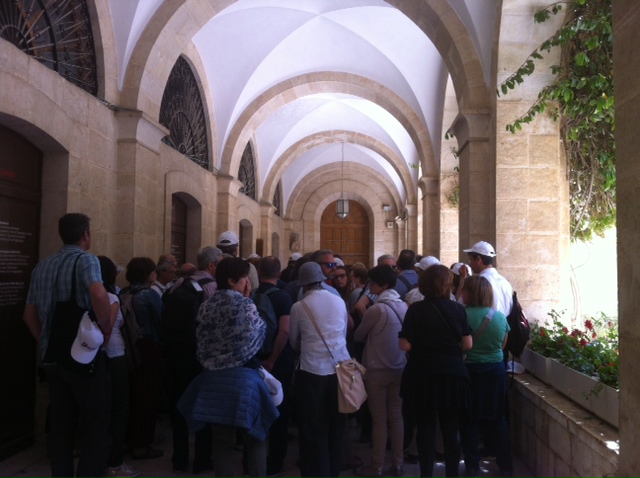 From here we will walk about 500 meters to Pool of Bethesda. This holy spot is where Jesus performed a miracle and cured the crippled man.



Now at times an Angel of the Lord would descend into the pool, and so the water was moved. And whoever descended first into the pool, after the motion of the water, he was healed of whatever infirmity held him. And there was a certain man in that place, having been in his infirmity for thirty-eight years. Then, when Jesus had seen him reclining, and when he realized that he had been afflicted for a long time, he said to him, "Do you want to be healed?" The invalid answered him: "Lord, I do not have any man to put me in the pool, when the water has been stirred. For as I am going, another descends ahead of me. "Jesus said to him, "Rise, take up your stretcher, and walk." And immediately the man was healed. And he took up his stretcher and walked. John 5:2-9
This place is remarkable and known to look the same as 2000 years ago; since the time of Jesus.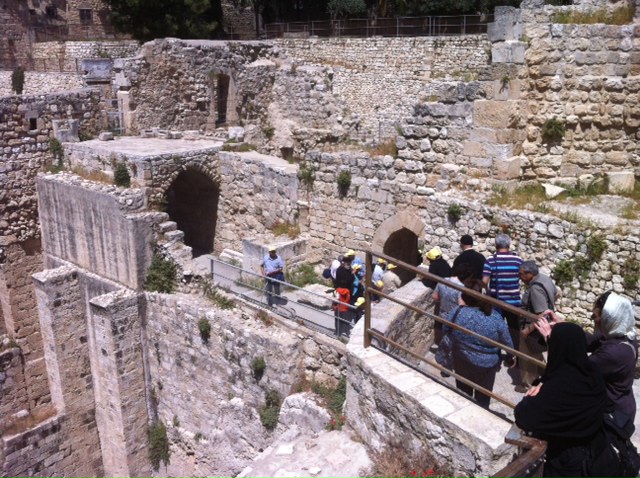 Located also in Bethesda is the home of St. Anne, the mother of Mary along with a beautiful church where we shall remain for a while to pray and light candles.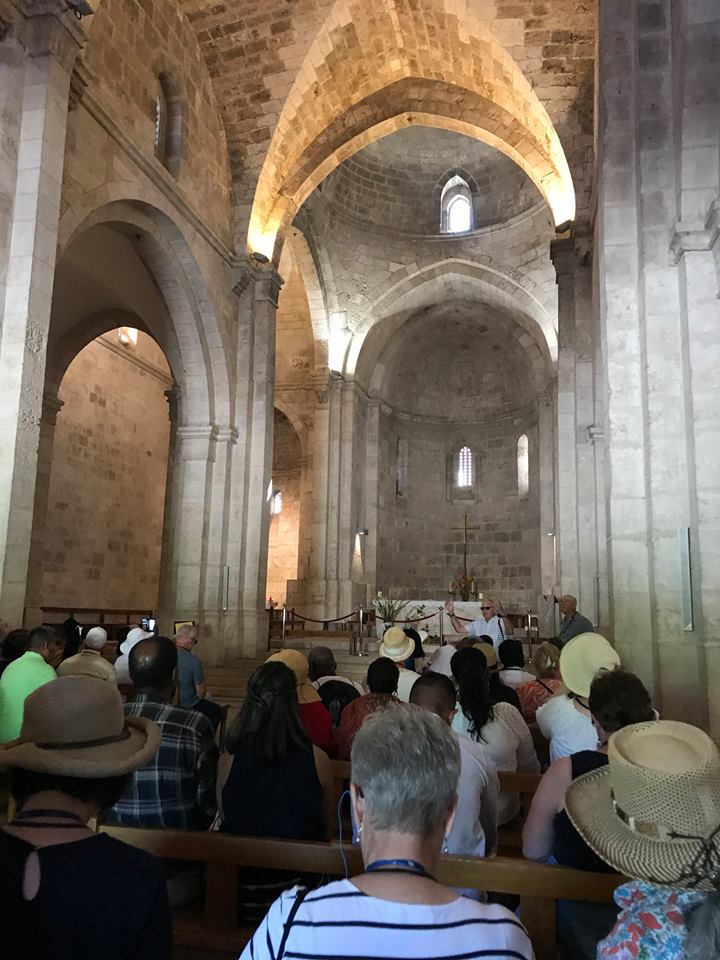 It will now be time to break for lunch. After we will have fed our souls with Christ's spiritual food, we will feed our bodies with Jerusalem's earthly food.
The varieties and selections of delicious Israeli cuisine are endless. From classic meat dishes like shawarma, to vegetarian dishes like falafel, humus and tabbouleh to Jesus' favourite 'fish' and other seafood dishes. Whatever type of food you desire you will find in the old city, Thanks be to God.
Street food prices range from $2-$7, while restaurant prices range from $20-30.
Note:
It's valuable to know that prices in the western part of the city are more expensive than in the eastern part.
After our meal we will get back on our spiritual path to our next destination, the Holy Sepulchre Church. From there we shall walk through the Jaffa gate in the old city, until we arrive at Golgotha.
And when they had come to the place which is called Calvary, there they crucified Him, and the malefactors, one on the right hand and the other on the left. Luke 23:33
As we wait in line with anticipation, we will arrive at the tomb of Christ, the most holy and sanctified place on earth for Christians everywhere. At the Holy Sepulchre Church many take the opportunity to request a priest to pray for them and their intentions. The power of the Holy Spirit of God will leave you in awe of this miraculous place, and you will be in no rush to leave. The church remains open until 9 pm.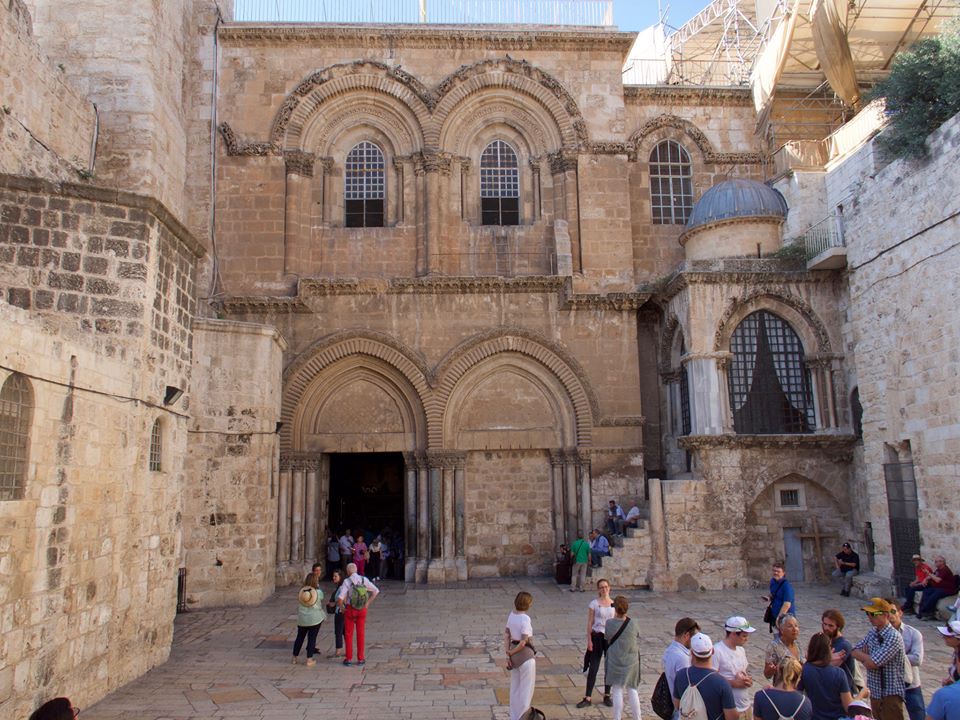 We now end the Day 1 of the tour, as we return to our hotel for the remainder of the day and prepare for next day's tour in Jerusalem.
DAY 2
We will start our morning visiting The Garden of Gethsemane where:
Jesus went out as usual to the Mount of Olives, and his disciples followed him. On reaching the place, he said to them, "Pray that you will not fall into temptation." He withdrew about a stone's throw beyond them, knelt down and prayed, "Father, if you are willing, take this cup from me; yet not my will, but yours be done." An angel from heaven appeared to him and strengthened him. And being in anguish, he prayed more earnestly, and his sweat was like drops of blood falling to the ground. Luke 22:39-44
We will also enter the church and pray as we meditate on that night our Lord was betrayed in the Garden of Gethsemane.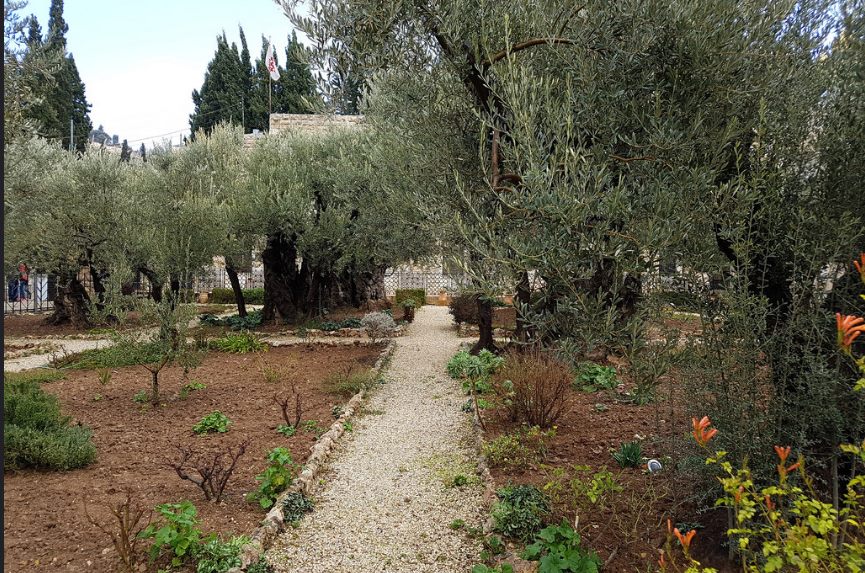 From here we will walk few hundred meters to visit the Church of Mary Magdalene, who was one of the most prominent female disciples of Jesus. This Russian Orthodox Church is quite remarkable in its beauty from inside and out.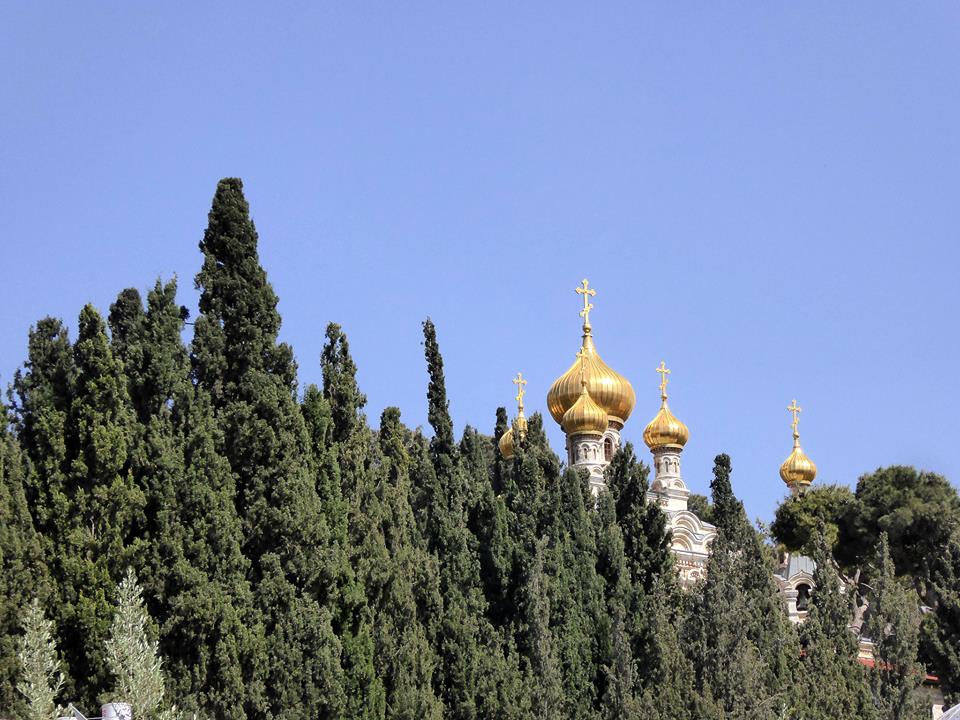 We will then board the tour bus and drive to Western Jerusalem, to the beautiful neighbourhood of Ein Karem, which shares both Christian and Jewish history.
Here we will visit the home of Saint John the Baptist. We will also visit the Greek Orthodox Church after whom John the Baptist was named.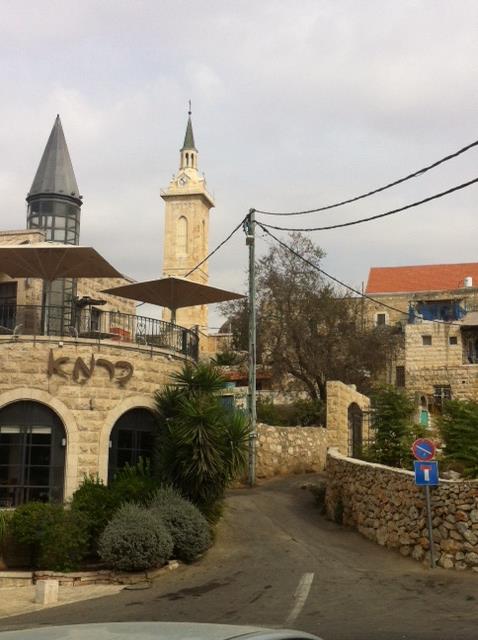 While we continue our trip we can enjoy the cafes and restaurants offering delicious deserts and coffee in this beautiful area.
Our last stop before we finish our tour is the Church of the Visitation, the place our Lady met with her cousin Elisabeth.
And Mary arose in these days and went into the hill country with haste, into a city of Judah; 40 and entered into the house of Zacharias and saluted Elisabeth.......Luke 1:39-45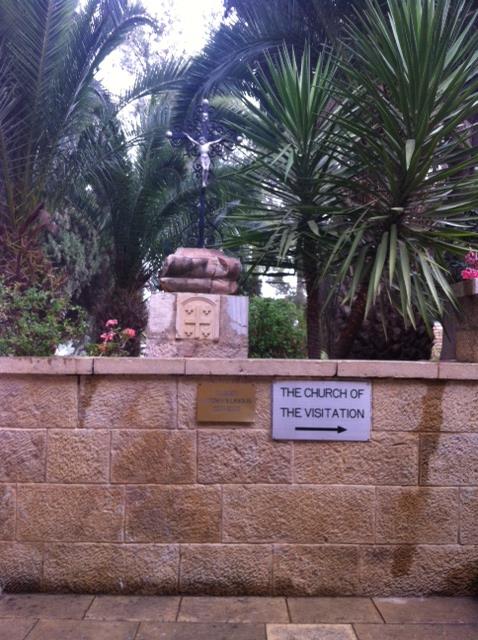 This concludes the itinerary for our Two Day Journey through the gates of Jerusalem. I hope you will enjoy it, and be filled with heavenly food after this faithful experience and forever more.
God bless you all and I hope to see you on our next tour.
Nicola Kanaan
Footnote:
For those of you who have visited the churches mentioned above, and would like to add your thoughts and suggestions for future visitors please leave your comments below.