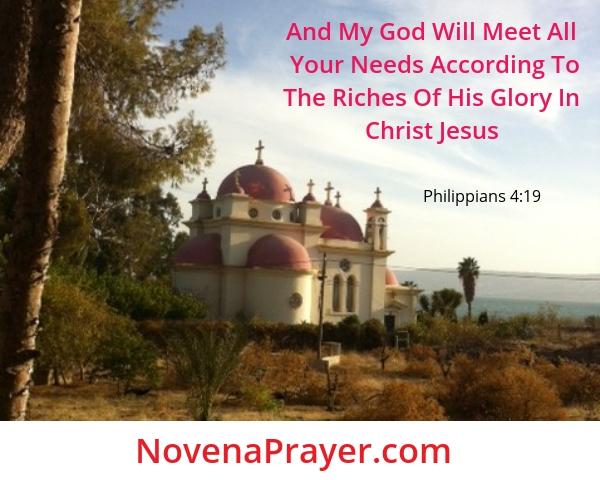 Wonderful Prayer to start Your Day
Dear Lord, I thank you for this day. I thank You for my being able to see and to hear this morning. I'm blessed because You are a forgiving God and an understanding God. You have done so much for me and You keep on blessing me. Forgive me this day for everything I have done, said or thought that was not pleasing to you. I ask now for Your forgiveness.

Please keep me safe from all danger and harm. Help me to start this day with a new attitude and plenty of gratitude. Let me make the best of each day to clear my mind so that I can hear from You.

Let me not whine and whimper over things I have no control over. Let me continue to see sin through God's eyes and acknowledge it as evil. And when I sin, let me repent, and confess with my mouth my wrongdoing, and receive the forgiveness of God.

And when this world closes in on me, let me remember Jesus' example -- to slip away and find a quiet place to pray. It's the best response when I'm pushed beyond my limits. I know that when I can't pray, You listen to my heart. Continue to use me to do Your will.

Continue to bless me that I may be a blessing to others. Keep me strong that I may help the weak. Keep me uplifted that I may have words of encouragement for others. I pray for those who are lost and can't find their way.. I pray for those who are misjudged and misunderstood. I pray for those who don't know You intimately. I pray for those who will delete this without sharing it with others. I pray for those who don't believe. But I thank you that I believe.

I believe that God changes people and God changes things. I pray for all my sisters and brothers. For every family member in their households. I pray for peace, love and joy in their homes that they are out of debt and all their needs are met.

I pray that every eye that reads this knows there is no problem, circumstance, or situation greater than God. Every battle is in Your hands for You to fight. I pray that these words be received into the hearts of every eye that sees them and every mouth that confesses them willingly..

This is my prayer.
In Jesus' Name,

Amen.




Prayer to Jesus
Father, Son, and Holy Spirit,
We praise you and give you glory:
We bless you for calling us to be your holy people.

Remain in our hearts,
And guide us in our love and service.
Help us to let our light shine before others
And lead them to the way of faith.

Holy Trinity of love,
We praise you now and for ever.

Amen!
PRAYER TO OUR LADY, ASSUMED INTO HEAVEN:
Immaculate Virgin, Mother of Jesus and our Mother, we believe in your triumphant assumption into heaven where the angels and saints acclaim you as Queen. We join them in praising you and bless the Lord who raised you above all creatures. With them we offer you our devotion and love. We are confident that you watch over our daily efforts and needs, and we take comfort from our faith in the coming resurrection. We look to you, our life, our sweetness, and our hope. After this earthly life, show us Jesus, the blest fruit of your womb, O kind, O loving, O Sweet Virgin Mary.
Amen.
Prayer for Finance
Heavenly Father,
I Come before you today to ask for
a financial blessing to improve my life.
My faith keeps me strong,
and I know you will provide for me
and the people I love.
I do not seek a large sum of money.
I do not trouble you for unneeded comforts
or luxury. I only ask for enough money
to relieve my financial woes and ease this stress.
Give me the means to do your work,
and spread your Love. I have so much
to give, if only I were allowed the chance.
In your name I pray, Amen
Prayer for Employment
God, our Father, I turn to you seeking your divine help and guidance as I look for suitable employment. I need your
wisdom
to guide my footsteps along the
right
path, and to lead me to find the proper things to say and do in this quest. I wish to use the
gifts
and talents you have given me, but I need the opportunity to do so with gainful employment. Do not abandon me, dear Father, in this search, but rather grant me this favor I seek so that I may return to you with praise and thanksgiving for your gracious assistance. Grant this through Christ, our Lord. Amen.
Prayer for the Dead
God our Father,
Your power brings us to birth,
Your providence guides our lives,
and by Your command we return to dust.
Lord, those who die still live in Your presence,
their lives change but do not end.
I pray in
hope
for my family,
relatives and friends,
and for all the dead known to You alone.
In company with Christ,
Who died and now lives,
may they rejoice in Your kingdom,
where all our tears are wiped away.
Unite us together again in one family,
to sing Your praise forever and ever.
Amen.
A Prayer for Guidance
Lord Jesus, may everything I do begin with You,
continue with Your help,
and be done under Your guidance.
May my sharing in the
Mass
free me from my sins,
and make me worthy of Your healing.
May I grow in Your Love and Your service,
and become a pleasing offering to You;
and with You to Your Father.
May the
mystery
I celebrate help me
to reach eternal
life
with you.
Amen