THE POWER OF ONE HAIL MARY

One Hail Mary well said

fills the heart of Our Lady

with delight and obtains for us

indescribably great graces.

One Hail Mary well said

gives us more graces than a

thousand thoughtlessly said.

The Hail Mary is like a mine

of gold that we can

always take from but never exhaust.


St. Jerome tells us:

"THE TRUTH CONTAINED

IN THE HAIL MARY

ARE SO SUBLIME, SO

WONDERFUL THAT NO MAN

OR ANGEL COULD

FULLY UNDERSTAND

THEM."


Immaculate Heart

of Mary,

full of love for God and mankind,

and of compassion for sinners,

I consecrate myself to you.

I entrust to you the salvation of my soul.

May my heart be ever united with yours,

so that I may hate sin,

love God and my neighbor,

and reach eternal life with

those whom I love.

May I experience the kindness

of your motherly heart

and the power of your

intercession with Jesus

during my life and at the

hour of my death.

Amen.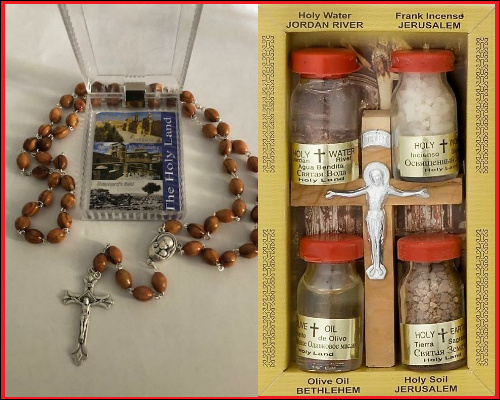 Pray Novenas With Our Special Gift From The Holy Land
And Support the Local Christians With Your Purchase.
Free Premium Shipping Buy Now!!!